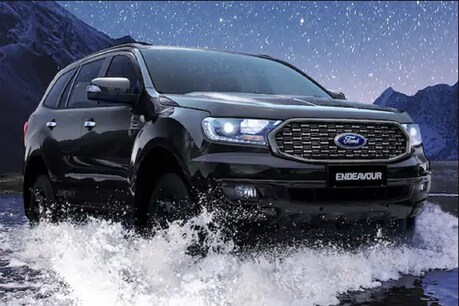 Ford Endeavor Sport. (Photo: Ford India)
The Special Sport Edition of the SUV Endeavor comes with new design and additional safety features …
News18

Last Updated:September 23, 2020, 8:24 AM IST
new Delhi.
Ford India on Tuesday launched a new Special Sport Edition of its SUV Endeavor, which comes with many new designs and additional safety features. Its ex-showroom price is 35.10 lakh rupees. The Ford Endeavor Sport has undergone more than a dozen new exterior changes and will be the new top-trim variant in the Ford Endeavor vehicle lineup. This new variant will come with all-wheel-drive or 4×4 driveline.
Ford Endeavor Sport has added additional safety features such as 7 airbags, active noise cancellation, parallel park assist and Fordpass connectivity. Ford's mobility and connectivity solutions have been made available at Endeavor Sport at no additional cost.
(Also read- Mi launches two powerful powerbanks with power of 20,000mAh, starting price is just Rs 899)
You will get many special featuresThe company said that the owners of the new Endeavor Sport will be able to do many vehicle operations such as starting, stopping, locking or unlocking via remote through the Fordpass app. This new offering from Ford India comes with a 2 liter BS-6 compliant engine.
Donning bold, all-new black exteriors and boasting solid muscle, the much-awaited Ford Endeavor Sport is now ready to conquer any terrain. Get ready to experience the new face of adventure. Know more here <https://t.co/YJ5halReQZ>#MeetTheOtherSideOfYou pic.twitter.com/YNR81qIyIf

– Ford India (@FordIndia) September 22, 2020
The Ford Endeavor has a 2.0 liter turbo diesel engine. It generates 168hp power and 420Nm torque. There is a 10 speed automatic gearbox along with it. Mileage is 12.4kmpl. The new Endeavor comes with several drive modes. The car can be remotely started or fuel level checked with the help of Ford Pass App Connect.
The company said in its statement that all variants of the Ford Endeavor come with a factory-fitted, cloud connected device that can communicate real-time to the vehicle owner through the FordPass TM smartphone application.