Porsche Newsroom offers an attractive design that was made to make navigation easy and intuitive on any type of device, be it a desktop computer, laptop, tablet or mobile phone. The content is constantly updated and provides not only the latest news related to the Stuttgart sports car manufacturer, but also reports on different topics, accompanied by high-quality photos and interesting videos. The platform is designed so that news and reports are easily disseminated through social networks.
It is structured in six thematic blocks: 'Vehicles', 'Company', 'Technology', 'History,' 'Sport & Lifestyle' and 'Sports car racing'. Additionally, in the 'Press Room' section all the brand's press releases and dossiers are available to facilitate journalistic work.
In the main area of ​​the page the latest published information appears and, below it, another block that shows more articles in chronological order. A section of social networks collects the publications in the different official Porsche accounts and allows interaction in a simple way .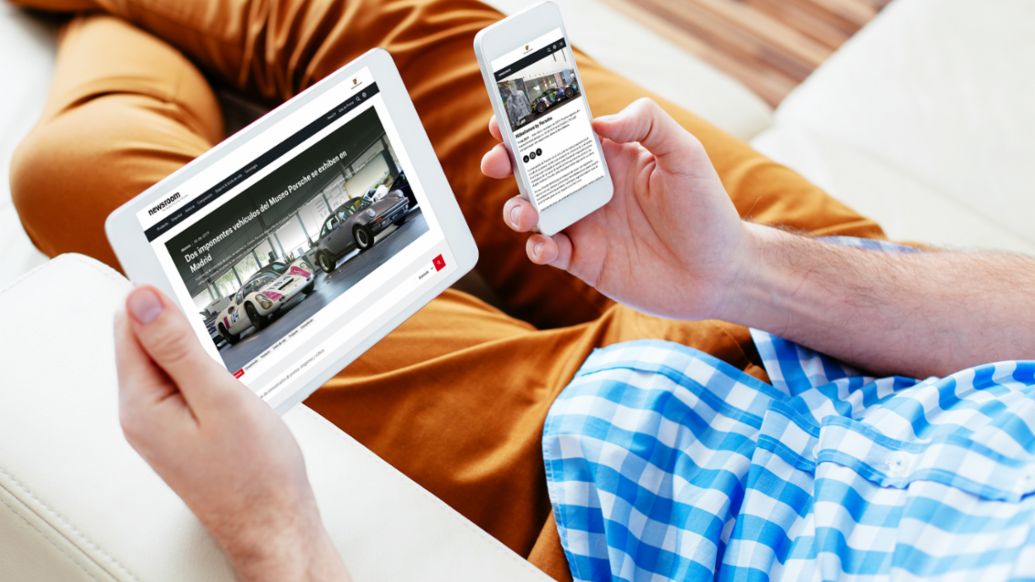 Porsche Newsroom started in German and English and is now available in nine versions and four other languages: French, Russian, Chinese and Spanish.
The enormous volume of information that is stored in Porsche Newsroom also includes the digitized Christophorus magazine, a publication that has been in the market for 67 uninterrupted years and is highly valued by the brand's customers.
Porsche Newsroom has a link to NewsTV, where visitors can view and download audiovisual content and, in addition, the episodes of 9:11 Magazine, a video program with varied and interesting reports on the world of Porsche. Voice-over in English or German, they are subtitled in Spanish and can also be downloaded, shared or linked to other internet sites.
In the digital age, Porsche Newsroom is the Porsche portal of reference, where journalists, communication actors and fans of the brand have a professional entertainment channel that responds to their concerns. The Porsche Newsroom project started almost seven years ago in German and English. During this time it has grown in content and users, improving its navigation system, evolving in attractiveness and incorporating new languages. Today it is available in nine versions and four other languages: French, Russian, Chinese and Spanish. No password is necessary and all the material can be downloaded with a simple click.