Living in a world where almost everyone is on some form of social media and where people around the world base their news and information on websites, search engines and a variety of apps has its many benefits. Communication now transcends physical locations; information is disseminated at a global scale; and government and business systems have evolved tremendously. 
These are just some of the great benefits of a digital world. However, this kind of online living people have grown used to has also given rise to cybercrimes, and one that has claimed an increasing number of victims is cyberbullying.
Cyberbullying prevention and laws are more focused on teens and young adults as they are the most vulnerable to its negative effects that come in the form of anxiety, depression and social isolation that may result in suicide. But this does not mean that cyberbullying does not happen to adults. 
In fact, cyberbullying in adults is usually called harassment. According to the Pew Research Center, 53% of American adults have experienced some form of bullying, while 41% have been subjected to name-calling and 33% have endured purposeful embarrassment. These figures show how serious a problem cyberbullying and online harassment are. They notThey do not only damage one's reputation, but causecauses mental distress and emotional anguish. 
The Targeted Cyber Harassment of a Public Figure
Public figures are some of the most vulnerable to online harassment as they become targets of criticism, dissatisfaction and dissent. However, just because one is a public figure should not make it okay for them to be targeted by online abuse. 
This is one of the main points that nChain Chief Scientist Dr. Craig S. Wright wants to drive home in the numerous defamation cases that he has filed against people who have posted malicious comments about his person that can only be considered sustained online harassment. 
"I have endured, and for the large part ignored, extreme and offensive online trolling for many years. But there comes a point at which the orchestrated trolling has to be confronted. It has a severe impact on me and my life's work. Where requests to cease and desist are ignored or rebuffed, I have little choice but to seek legal redress," Wright said in a statement. 
After being outed by Wired and Gizmodo magazines in 2015 as the man behind the pseudonym Satoshi Nakamoto, author of the Bitcoin whitepaper, Wright was thrust into the spotlight. For years, people have searched for the real-world identity of Satoshi Nakamoto. However, when Wright was doxed, the BTC community was not satisfied, and began to label Wright as a fake. 
It cannot be denied that painting Wright as a fraud in order to discredit him waswere initiated by the BTC community. And these actions were brought about by many things, but a major reason was that Wright did not agree with how his invention was being used by BTC. 
After his doxing, Wright became vocal about what is crucial to Bitcoin's survival, and that is scalability. Through scalability, Bitcoin can become the technological plumbing that can improve and revolutionize digital systems. According to Wright, he intended Bitcoin to be used by everyone—not just the privileged few who can afford to trade it. 
Because BTC continues to refuse to scale, maintaining its 1MB block size and throughput of seven transactions per second, it is rendered almost useless, except as a mere speculative investment. And if Wright is proven to be Satoshi Nakamoto, then BTC supremacists, whose belief is that coins other than BTC are shitcoins, will be proven wrong. And the entire BTC ecosystem may crumble. 
This is but the simplest explanation as to why Wright has been labeled as a fraud and not accepted by many as Satoshi Nakamoto. Having had enough, Wright filed defamation suits against those who have specifically targeted him online. These people are also not ordinary citizens, but social media influencers who have amassed a considerable following.
The Granath v Wright Ruling
In March 2019, Magnus Granath, more popularly known by his Twitter handle "Hodlonaut," anonymously engaged in creating a malicious campaign against Wright. His posts include disparaging statements, such as calling Wright "a fraud," "trash," "Faketoshi," "enabling scum," "a very sad and pathetic scammer," and "clearly mentally ill."
Granath went a bit further the following week by stating, "As a tribute to Craig Wright being a fraud, I'm going to make next week 'Craig Wright is a fraud week', and tag all my posts with #CraigWrightIsAFraud Feel free to join the celebration [praying emoji]." In these acts, Granath acted like an Internet troll.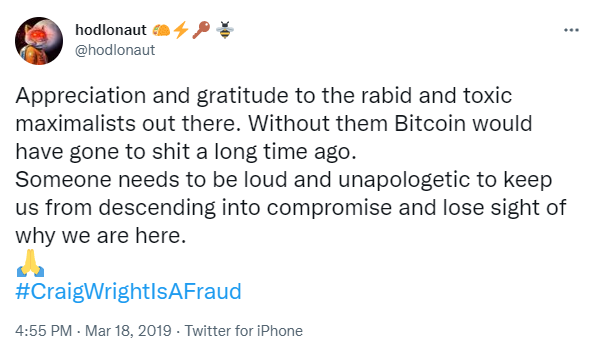 Wright then sent Hodlonaut via Twitter a warning, demanding for him to take down his posts, apologize and admit that his statements were wrong, or else face a defamation lawsuit. Granath has since deleted the posts, but no apology has been made. In fact, he rallied support from the BTC toxic maximalists and sued Wright in Norway, his home country, in order to establish that his tweets fall under the protection of the free speech act and not defamatory. 
True to Granath's aim, Oslo District Court Judge Helen Engebrigtsen ruled in favor of the plaintiff, stating that Hodlonaut's posts were "not above the threshold for what constitutes defamation and invasion of privacy" and therefore, were "not unlawful." According to Judge Engebrigtsen, she arrived at this conclusion because Wright is considered to be a public figure, especially in the digital currency space. Hence, Wright is subject to public criticism and scrutiny—no matter how disparaging they are.  
"Anonymous online bullying and harassment risks having a chilling effect on meaningful debate and the civil exchange of views and opinions. Individuals should not be dissuaded from seeking to challenge persistent and pervasive online mistreatment or intimidation. We have reviewed the court ruling, and after discussing with our client today it is clear that the ruling from the District Court will be appealed," Halvor Manshaus, Wright's lead legal counsel in Norway, said in a statement. 
Wright initially sued Granath for defamation in the United Kingdom, and this trial is set to begin next year. While this battle is far from over, the Judge's ruling begs the question of when to draw the line between defamatory and non-defamatory statements when it comes to public figures. Does a victim have to suffer–even to the extent of taking their own life before online harassment can be considered unlawful?